YOUR PARTNER FOR IoT & INDUSTRIE 4.0 SOLUTIONS

ABOUT US
---
We are a medium-sized software company with the constant drive to find the best individual solution for our customers. With passion for technology, details and our customer contact, we face current and future challenges.
Already 30 years ago we dealt with remote meter reading in the energy sector at various municipal utilities. In 2004, the Franke & Werner GmbH was created in order to advance the business field of the remote transmission of consumption data further. Already then, we were thinking about the future and developed telemetry solutions for data-driven machine management for coffee and vending machines which is now referred to as "smart vending".
In addition, we support the implementation of smart metering projects, i.e. the measurement, determination and control of energy consumption for smart networked meters in Germany and Austria. Using technologies such as smart data analysis or cloud services we develop measurement solutions for industry 4.0 and the Internet of Things.
Thus, the topic M2M (Machine-to-Machine) communication forms our central core competence. We offer individual implementations of the automated exchange of information between terminal devices to our customers, such as measuring devices, machines or with a central control centre (cloud).
For example, using appropriate communication channels, remote monitoring, control and maintenance of machines, plants and systems, is possible. We discuss with our customers and partners which hardware or type of communication is or should be used. We will also be happy to advise you in this respect. It is not only important for us to find a solution for future devices and machines, but also to integrate those which are already in use and/or in an existing device architecture.
Our previous solutions are used worldwide with more than 100,000 productive systems.
OUR BRICKS FOR YOUR SOLUTION
---
Industry 4.0 – from your machine, your automatic unit to an individualized app, a portal or the way to your existing backend system – by consulting us, you get the missing "bricks" or the complete solution from a single source. We adapt the hardware and software modules to your use case and guarantee your desired IoT result. If you only need single modules, e.g. if you have your own cloud, your machine already has a communication unit, or you have the pure need for a data switch or appropriate micro services, we are also available to you as a competent partner in these cases.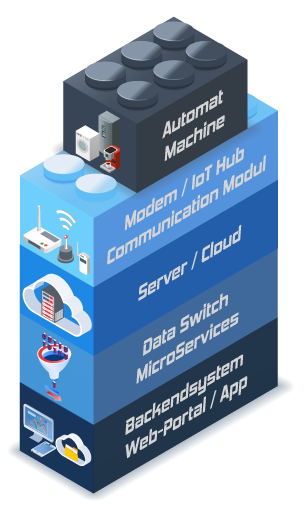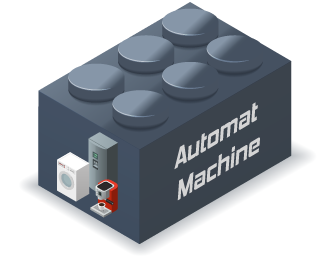 YOUR USE CASE – DATA COLLECTION
Your machine, your automatic unit or your individual use case, which you would like to connect digitally and remotely, is the central starting point in focus. In the best case, your machine, your automatic unit already has an interface and offers the option of tapping or recording the data generated on the machine. Possible interfaces could be e.g. an Ethernet, USB, COM interface or various BUS systems (e.g. Modbus, EEBus) through which the machine can be accessed. Insofar as the data has not yet been recorded digitally, e.g. the fill level of a gas tank or the temperature of a component, we offer you our technical know-how and try to create a suitable solution and communication path for you. Our core competence is to find innovative and technically functional solutions for your sensors and actuators.
THE COMMUNICATION LEVEL
Depending on the use case, area of application and your individual requirements, we conceive the design for the ideal communication level together with you.
In case if your machine does not yet have a communication module to transmit your machine data remotely or to receive data from an established server, we will assist with our many years of expertise and with our partner network of industrial pc / mini pc and modem manufacturers.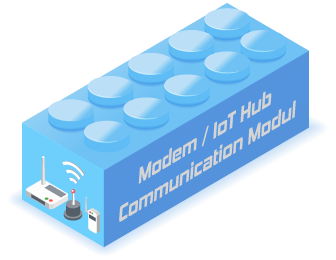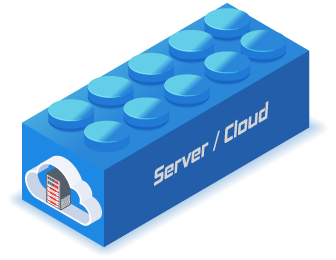 SERVER PROVISION / HOSTING
At first, the captured data is transmitted to a secured server, also known as cloud, via the communication level. Subsequently, it is kept there.
We can host your infrastructure for you by cooperating with experienced and certified hosting partners. We take care of the provision of the hardware as well as the maintenance and operation of the systems including databases.
If you already host a cloud or your own server, there is also the possibility to use this infrastructure, provided the relevant basics are met.
DATA PROCESSING – SERVICES
The brick of services includes what happens to the data captured and transferred to the server. These so-called micro services can cover a wide variety of use cases and can be standardised as well as completely customized.
At first, the captured data is prepared and filtered. Pure machine language does not necessarily have to be a finally readable data format. Our services can thus act as a translation or converter.
The decisive factor is how and where the respective data is required for editing, further processing or processing. Web portals, apps and back-end systems (ERP systems) are customary in the market in which the corresponding evaluations can then be displayed and carried out. In this connection not everyone speaks the same language. With our services, we offer you a corresponding data switch and implement the necessary interfaces so that your data ends up where you want it. We prepare your data for individual interfaces or for the industry-specific standard interfaces.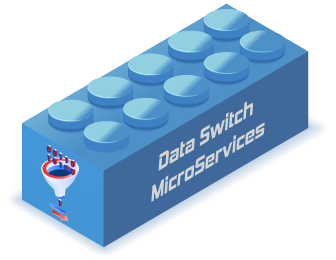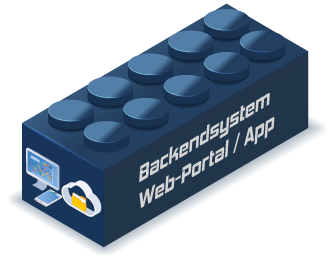 DISPLAYING YOUR DATA
No matter whether an existing / individual app, your own or cross-manufacturer web portal, the transfer to your existing backend system(s) or the sending of a rotational status report… We ensure that you receive the required output of your data and can make necessary entries.
Together with a network of appropriate partners, you can benefit from a wide range of output options.
REFERENCES
---
Networked vending machines
Our networked vending solution allows you to monitor your vending machine usage, remotely adjust machine settings and efficiently plan maintenance.
Bidirectional communication between the coffee vending machines and a central host system takes place via edge gateways that exactly fit into the vending machines. All defined data is collected via this connection and the gateways send the determined data to a central server (cloud) via mobile communications. From there, the data is processed as a website in a clearly arranged and individually designed data cockpit.
It is also possible to import firmware updates remotely or to transfer settings such as prices and recipes to the coffee dispenser.
Simple networking and evaluation of your distributed vending machines
Use new business models, e.g. pay-per-use
Ideal service and maintenance intervals through monitoring of current usage data
Cost savings and better quality management
Flexibly configurable user interface and reports
The following video shows our already implemented expertise in coffee vending machines:
CONTACT
---
Are you looking for the right telemetry solution for your vending machines and coffee dispensers?
Would you like to collect data from other machines, vending machines, systems or measuring equipment by remote reading or adjust parameters remotely?
Contact us. We look forward to hearing from you!